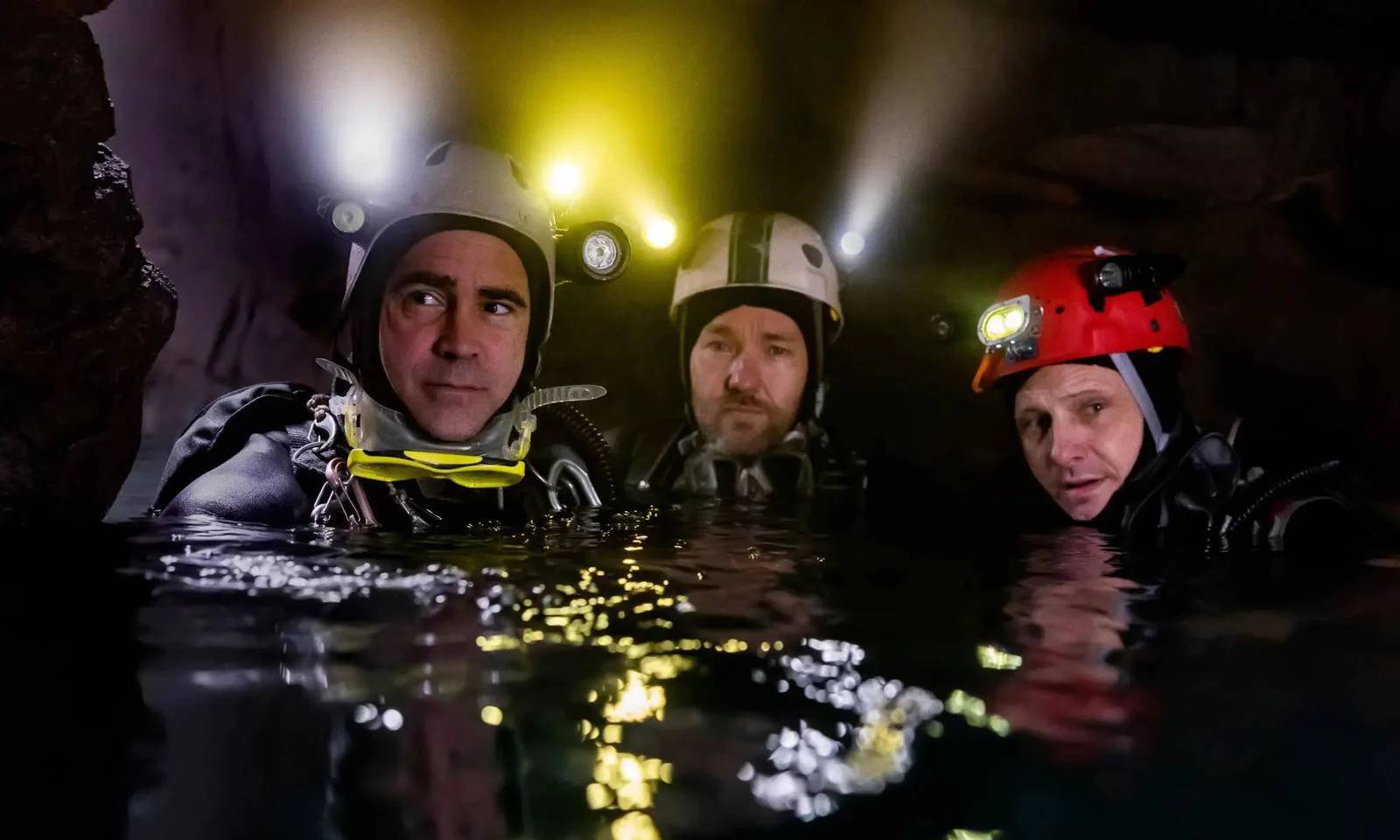 It Takes a Village
Thirteen Lives, Ron Howard's dramatic retelling of the 2018 Tham Luang cave rescue, takes an understatement approach to heroics, swerving away from the dramatic fanfare and teary-eyed grace notes of a typical Hollywood feature and relying instead on something more workmanlike, cut-and-dry, and almost minimalist. The true story that inspires Thirteen Lives has already been brilliantly told in National Geographic's 2021 documentary The Rescue and Howard largely offers an unfussy translation of those events, without a lot else. In some senses, it could be argued that this feature film is an unnecessary addition to the story as it doesn't provide any significant new wrinkles to the story as told by documentarians Jimmy Chin and Elizabeth Chai Vasarhelyi. But Howard's ability to turn historical drama into nail-biting cinema makes this a worthwhile venture nonetheless, even for those acquainted with the details.

It all starts when a group of 12 Chang Rai-based soccer players and their coach embark into the mouth of a cave after practice one beautiful day in late June 2018. Weeks before the monsoon season was to set in in full force, a flash flood trap the thirteen lives deep within the cave. Without food and water, they are left with no chance for escape other than to dive some six-hours through a highly-technical cave system. It is – in a word – impossible.
Howard's dutiful version of events rightfully amplifies the underwater anxiety of the actual rescue mission that plays out over the course of the next few weeks, relying on the inherent claustrophobia of rescue divers navigating tight underwater channels to elicit a white-knuckle, sweaty-palmed response. Successfully managing to induce a good measure of suspense and rigorous nail-biting even for a viewer like myself who has seen The Rescue and knows exactly what is fated to occur, Thirteen Lives manages to justify its existence by expanding the scope of this story while remaining clear-eyed and sober about the actual human lives at stake.
As humanitarian and unsentimental as he has ever been, Howard pulls back the lens to focus on the globalized scale of efforts put into saving the souls trapped nearly- kilometers deep in the flooded Northern Thailand cave. In doing so, he seeks to capture but a slice of the tens of thousands of people who did whatever they could to chip in.
Colin Farrell and Viggo Mortensen play experienced British cave divers John Volanthen and Rick Stanton, imported to Thailand to lead the Tham Luang rescue efforts, much to the chagrin of the local SEALs. Howard's telling of the story thrives in not making these men larger-than-life recreations or even the focal point of the story. Their significant contributions are not undervalued but theirs is not the only story.
[READ MORE: Our review of free solo ice-climbing documentary 'The Alpinist']
Even moreso than the documentary exploring the same events, Thirteen Lives focuses on just how many individual sacrifices were made in order to save the trapped children. From local farmers to construction volunteers, so many people had skin in the game. So many were willing to risk life, limb, and livelihood. This rescue was an international miracle in many senses. None perhaps more-so than a global village actually coming together for the greater good, without thought of reward, notoriety, or financial gain.
Instead of becoming an objectively Hollywood version of events, Thirteen Lives escapes the trappings of a lesser translation, careful not to fall prey to the temptation to knight Volanthen and Stanton as white saviors. After the demise of one of the Thai rescue divers, it becomes clear that there will be no easy way out for the boys and that death is not only on the line: it is inevitable.
The rescue efforts are never one-pronged, with different groups tackling the problem from different angles, even if the most daring and inherently cinematic aspect of the rescue does fall onto the shoulders of the white European diving enthusiasts. Theirs is a Hail Mary maneuver so insane that it could potentially kill all involved. The would-be saviors are left to reckon with the reality that that their plan will likely involve casualties but must stomach the reality that if they do nothing, then the boys are as good as dead anyways.
Howard could have played events for more dramatic flourish but remains surprisingly modest with his filmmaking, opting for faithfulness and restraint over exploitative tactics and easy fanfare. Thirteen Lives is his best film in many years (the first since 2013's Formula One-racing biography Rush that truly showcases the director's talents) even though it's hardly an essential addendum to his filmography. Despite the fact that Howard has arguably added little original batter to the mix, he succeeds in his role as a shepherd of this particular tale by allowing the power of the true story to shine through. After all, it is truly a remarkable story – a generational saga of the ingenuity of a few brave men and a village banding together. We need more stories like this.
CONCLUSION: Ron Howard's penitently faithful adaptation of the true story of 13 youths trapped in a Thai cave makes for a workmanlike and harrowing film. Cutting against the grain of exploitative Hollywood translations, Howard humbly steps out of the way to let the power of the story speak for itself, while injecting just enough tension to keep it a white-knuckle affair.
B
For other reviews, interviews, and featured articles, be sure to:
Follow Silver Screen Riot on Facebook
Follow Silver Screen Riot on Twitter
The post 'THIRTEEN LIVES' Explores the Depths of Human Ingenuity and Bravery in Workmanlike Retelling appeared first on Silver Screen Riot.