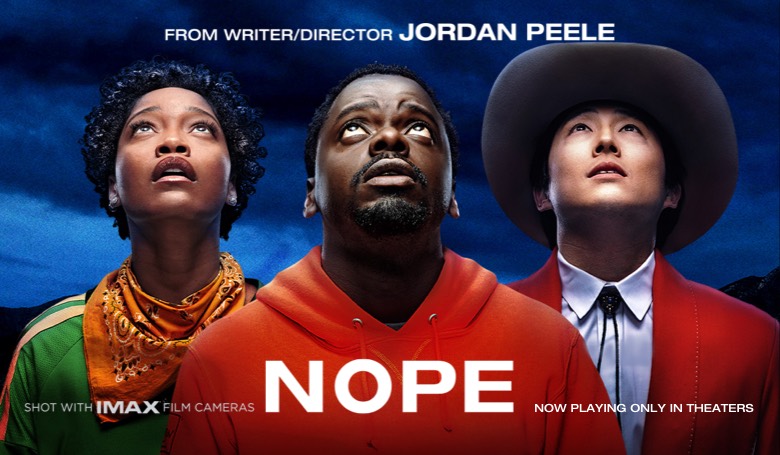 Now playing at a multiplex near everybody:
NOPE (Dir. Jordan Peele, 2022)
Jordan Peele is on a roll.
While his second feature, US (2019), didn't reach the heights of his 2017 directorial debut, GET OUT (a modern masterpiece in my book or on this blog), it was still an effectively creepy experience, and now he's back with NOPE, the must-see movie of the summer. 
Fresh off of his Best Picture win for JUDAS AND THE BLACK MESSIAH, Daniel Kaluuya stars as OJ Haywood, a Hollywood horse wrangler, who inherits a ranch out in the desert hills of Agua Dulce when his father, Otis (Keith David), dies from a freak accident involving a nickel falling from the sky. Co-starring is Keke Parker as OJ's sister, Emerald (Em for short), who is a snappy, quick-talking ball of energy compared to her soft spoken, somewhat muddled brother. 
The solidly-acted, and appealing duo do business selling horses to neighbor Ricky "Jupe" Park (Steven Yeun), a former child actor who owns an old west town theme park called "Jupiter's Claim." Jupe has a disturbing back story, which is hinted in a cryptic flashback at the film's beginning, in which he was traumatized by a chimpanzee actor going berserk on the set of a '90s sitcom, Gordy's Home. Yeun's cowboy-garbed character exploits this event with a room of memorabilia connected to his office, which he charges people to see (one couple traveled from overseas to spend the night there). 
Odd occurrences, which OJ dubs "bad miracles," clue our leads into an alien presence in the sky with a familiar sight in the history of alien invasion cinema, a silver saucer gliding through the clouds, along with the power outages, and the looming infiltration from the heavens above that recall CLOSE ENCOUNTERS OF THE THIRD KIND, THE ARRIVAL, and better such likewise, but lesser fair like SIGNS. 
In the mix is Angel (Brandon Perea), a bleach-blond tech salesguy from Fry's Electronics who gets caught up in OJ and Em's scheme to capture the alien on film when they buy a bunch of camera equipment to set up around their ranch, and Antlers Holst (Michael Wincott), a gruff-voiced cinematographer, who our leads recruit to get "the impossible shot" of the UFO. Wincott's unsettling recitation of Sheb Wooley's "Purple People Eater" in a down-time kitchen scene is one of many nice, nervy touches throughout.
NOPE is broken up into well contained chapters, each a name of a non-human element of the film, the horses, "Ghost," "Lucky," and "Clover," then the concluding segment, "Jean Jacket," which is what OJ calls our outer space attackers, whose ship we see abduct 40 Jupiter's Claim attendees in quite a stirring sequence.
While it may be a bit slow (but not boring) to get going, and has some awkward pacing, NOPE pops with wit, scares, well-crafted character activity, inspired story beat action, and visuals that often reach poetry – the film's real-life director of photography, Hoyte van Hoytema (best known for his work with Christopher Nolan), definitely deserves an Oscar nom for what's up on screen here.
I would normally not use the word "dope," but it rhymes, I'm trying to be hip with the kids, and it definitely applies. NOPE joins Daniel Kwan's EVERYTHING EVERYWHERE ALL AT ONCE on my list of the best films of the year so far, and it's arguably an instant classic. Writer/director Peele's passion for film, constructing layered thematic concepts, and just plain putting people in compelling, surreal scenarios is a thing to behold in his excellent third horror, or more accurately dark suspense spectacle. 
This guy's career is gonna be a blast to follow.
More later…