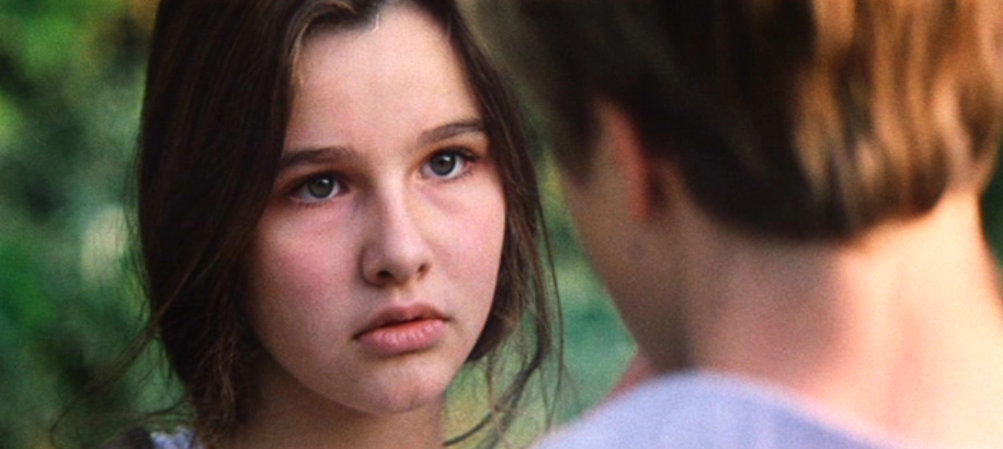 Images Courtesy of Mosfilm
Thirteen years before unveiling his titan sized rock drama
epic film Assa onto Soviet silver screens in 1987, Russian film writer-director
Sergei Solovyov demonstrated early on he was one of forefathers of chronicling
distinctly Soviet youth culture trying to find its footing in the world with
his 1974 coming-of-age summer camp drama One Hundred Days After Childhood.  A Sovscope 35mm panoramic widescreen
production co-written by Solovyov and screenwriter Aleksandr Aleksandrov and
released by Mosfilm the same year as Akira Kurosawa's Sovscope 70mm Dersu Uzala,
the film represents perhaps the best film about adolescent romantic longings to
emerge prior to Karen Shakhnazarov's Courier.  Cementing its leading actress Tatyana Drubich
as a Soviet screen sex symbol who would reunite with director Solovyov again in
Assa, One Hundred Days After Childhood became Solovyov's first
real critical hit which took home the Silver Bear for Best Director at the 25th
Berlin International Film Festival.  While
not quite amassing the ferocious power of Assa, it still is nevertheless
a solid youth film about crazy stupid and distinctly Russian love.

Young fourteen-year-old student Mitya Lopukhin (Boris
Tokarev) whiles away his summer days in the camp-grounds of the Russian country
grounds mingling with other young lads his age, guided by a schoolteacher who
is rehearsing a stage play with the classmates when his attention is caught by alluringly
beautiful and sophisticated Lena Yergolina (Tatyana Drubich).  Though mere acquaintances who have yet to engage
in any real conversation while her feelings clearly lie with another classmate,
Mitya nevertheless falls madly in love with her and begins enacting all kinds
of different forms of passive aggression to get her attention or sympathy
whether it involves having a plaster cast put on his foot, feigning illness and
getting into fights with her active beau.
While clear to the audience Mitya is barking up the wrong tree as fellow
classmate Sonya Zagremuhina (Irina Malysheva in her screen debut) plainly displays
feelings for the hero he is all but completely oblivious to as he doubles down
on his ill pursuit to "win" Yergolina's heart.
Ethereal, tranquil and at times audiovisually experimental,
this handsomely rendered period youth drama revels in the dreamlike wonderment
of the summer school glimpsed in Peter Weir's Picnic at Hanging Rock while
introducing a neurotic and clueless horny young male protagonist ala PTA's Licorice Pizza.  The result is one of the
quintessential Soviet coming-of-age films of the 1970s which for impishly
ironic effect attaches something of a megaphone to Mitya's absurd antics.  As with Assa the film makes
intentional fourth-wall breaking use of intertitles which help to chart the
emotional travelogue taken by Mitya.  
For
all of the film's elegant visual beauty rendered by The Red Tent cinematographer
Leonid Kalashnikov who does some wild camerawork and bending of the curvature
of the frame with his lens, for as ornately realized on film as this world is
we have the foolish dumb lovesick Mitya intruding upon its carefully
constructed perfection.

 

Somehow or
another, composer Isaac Schwartz cranked out the elegantly orchestral scores
for both this and the aforementioned Dersu Uzala within the same year, a
testament to the composer's ability to generate incredible music under duress.

The ensemble cast of young actors is generally good with His
Nickname is Beast actor Boris Tokarev as the dim witted foolish Mitya who
keeps trying to jump through flaming hula hoops to win the heart of Tatyana
Drubich's unattainable beauty while newcomer Irina Malysheva is practically
waving her arms up and down in front of him.
Though a teenager, Tatyana Drubich even at this early young age clearly
understood body language and posture as scenes of her donning a bouquet of
flowers eating an apple reading a French novel or frolicking barefoot about the
dock near the riverside wave unintentional flirtation in the face of our idiot
hero.  Obviously a very talented young
actress who would evolve into a veteran screen siren in the ensuing years, One
Hundred Days After Childhood all but canonizes her sultry confidence in the
movies.

Though overshadowed both by fellow Japanese master Kurosawa's
Dersu Uzala, One Hundred Days After Childhood did become the
first real awards winner for director Solovyov who took home the Silver Bear
award for Best Director.  In the years
since, Solovyov's work would become more, shall we say, iconoclastic?  Provocative?
Compared to the raging fiery Soviet tragedy/rock drama Assa it
doesn't quite have the same set of fangs.
What it does have however are early warning signs of the director's keen
observations of young love finding its way around either a strictly rigid or
nebulous, cloudy world.  More than just
another summer camp coming-of-age movie by a great filmmaker in the throes of
finding his niche, One Hundred Days After Childhood helped usher in writer-director
Solovyov and his screen muse Drubich into the hearts and minds of Russian filmgoers
young and old while expertly chronicling a tumultuous period of adolescence traversing
into adulthood.  We were all young once.