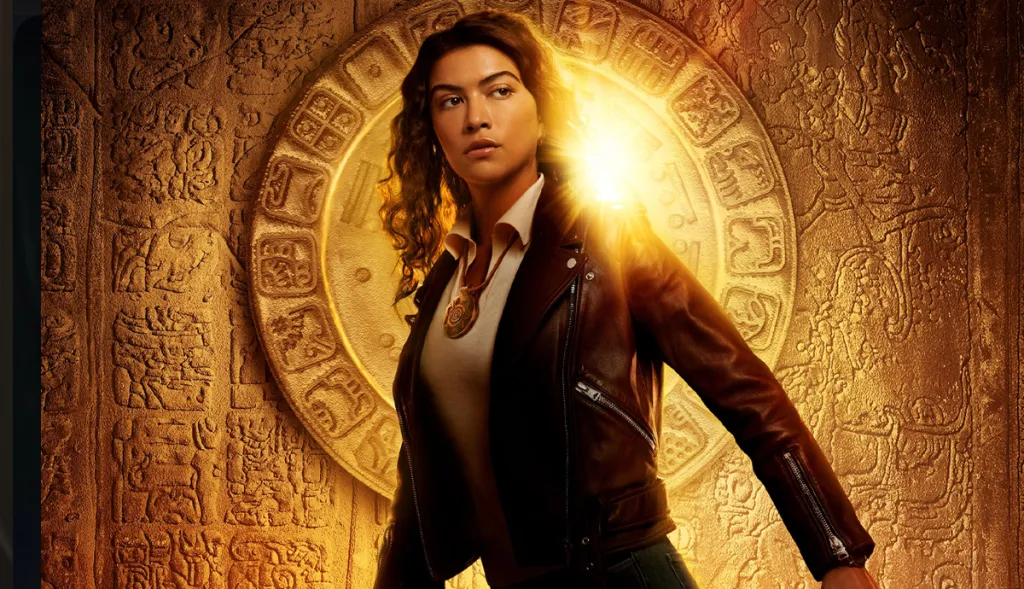 D23 is likely to be the gift that keeps on giving for a couple of days. Such was the volume of content dropped by the Mouse at the event. This is above and beyond what we already rounded up for you over the weekend, and is before we get to the unofficial clips and cell phone captures that will no doubt leak out. For now, it's another official one. National Treasure: Edge Of History has a full trailer.
Catherine Zeta-Jones rocked up at D23 to show the trailer during the Disney Branded Television's presentation. The series is tied tot he Nic Cage movies, but will not feature Cage's Benjamin Gates. The series follows Jess (Lisette Olivera), a DREAMer in search of answers about her families past and their ties to a lost Pan-American treasure.
Justin Bartha, Zuri Reed, Antonio Cipriano, Jordan Rodrigues, Jake Austin Walker, Lyndon Smith, and Harvey Keitel all star alongside Zeta-Jones. Original movie producer Jerry Bruckheimer, and director Jon Turteltaub are producers for the show, while the writing is done by Marianne and Cormac Wibberley.
The series will premier on Wednesday, December 14th with the first two episodes being released at once.
Meanwhile, rumors of a third movie in the National Treasure franchise continue to grow as Cage returns from his self-imposed busman's holiday on straight to video / streaming releases to pay his tax bill. Bruckheimer is pushing it forward. Speculation mounts, with Bartha and Keitel involved in the show, that we could see a cameo towards the end of the season or at least some kind of plot linkage to a potential movie.
The two movies have made over $800 million at the box office.
Check back every day for new content at Last Movie Outpost.
To like us on Facebook Click Here
To follow us on Twitter Click Here
See our YouTube channel Click Here
The post NATIONAL TREASURE Series Trailer appeared first on The Last Movie Outpost.