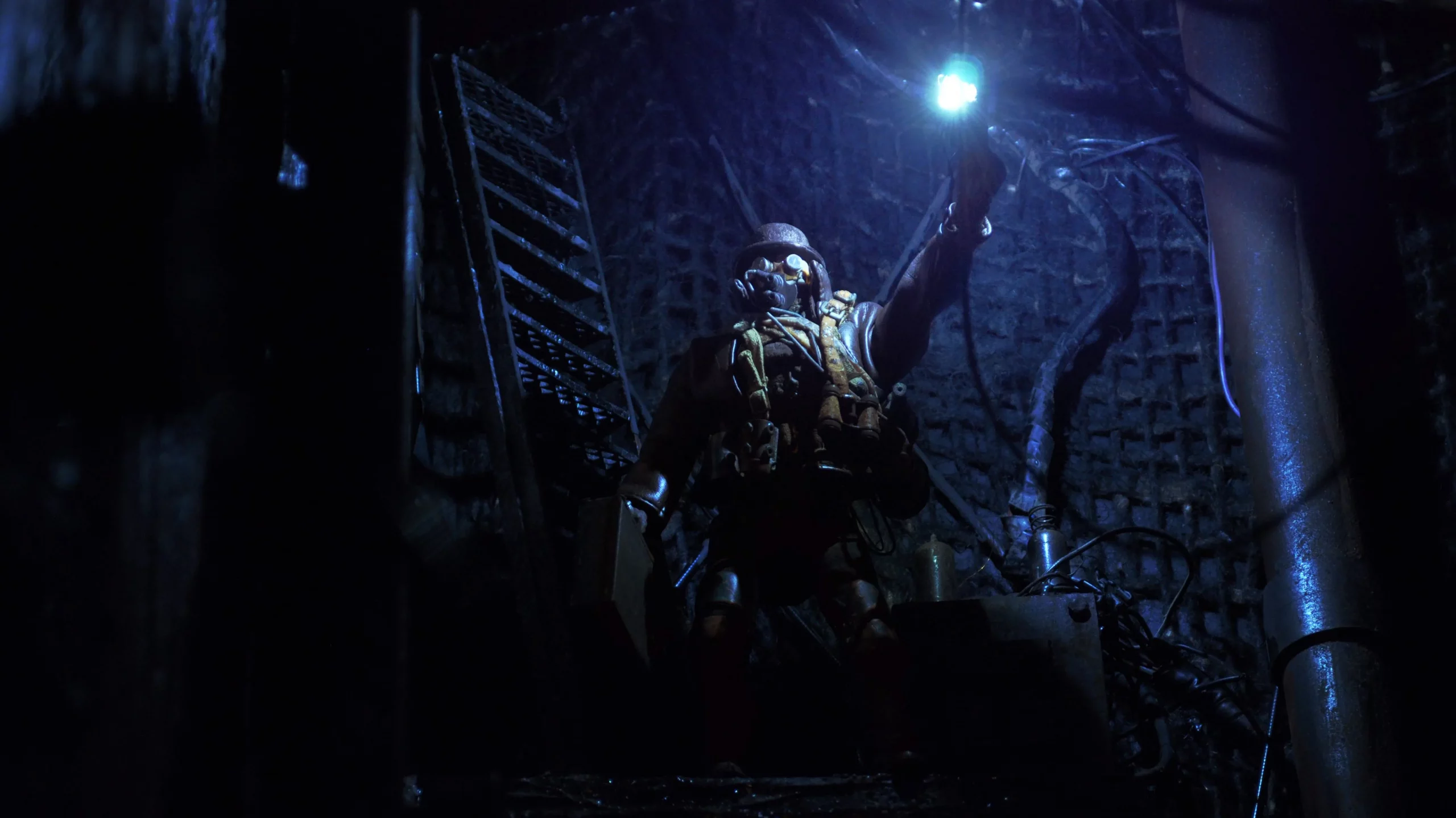 When I first saw the Quay Brothers' Street of Crocodiles (1987), I was blown away by the level of detail and mechanical ingenuity – quite literally both in the devices of the film but also the filmmaking itself with its pans, cuts, rotations, etc. I had to watch it again, and again, and again. I probably watched that movie consecutively more times than any other. There is such a density of artistic composition and meticulousness to the art direction that one just has to keep going back knowing that something had to have been missed. It's this level of filmmaking that makes both the Quay Brothers and visual-effects animator Phil Tippett one of a kind in their art of stop-motion. It's the kind of filmmaking that had supposedly grown out of fashion and all but died.
Out of the Vault and into Hell
As people lament the lack of innovative and visionary filmmaking in Hollywood today, there is probably nobody more adequately conditioned to shake up the foundation of what is possible with a little imagination and a whole lot of irreverent "fuck you" than Phil Tippett. Tippett's career is a staggeringly accomplished one, having worked with the likes of Steven Spielberg, George Lucas, Paul Verhoeven, Ron Howard, and Joe Dante, he is someone who many of Hollywood's biggest filmmakers know understands what the screen manifestation of an ambitious vision entails. It's no surprise that having marinated and kept in the vault for more than three decades, his animated epic Mad God burst and spewed onto the scene in absolutely take-no-prisoners fashion and has steadily, at least for this critic, placed itself close to the top of the pile as one of the best movies of 2022.
The grimy, rusted, molten, and crackling hellscape of Mad God is at once an art piece in and of itself and a brilliantly immersive playground. The film centers around an anonymous figure known as The Assassin, a nameless and faceless character who descends from a diving bell into the bowels of what can only be described as a malevolent underworld. The Assassin is armed with nothing but a map and a suitcase with a bomb inside of it. His objective is to detonate the bomb in a certain location of the hell world. The rest of the movie uses most of its runtime to immerse its audience fully in the world that surrounds the Assassin, and dazzle and revolt with its absurdly detailed stop-motion artistry.
A World of Relentless Imagination
Tippett's film resists creating any sort of contextual or surface-level idea ripe for nitpicking, lore-building, and lazy discourse and instead is a movie of direct, unflinching style and verve. Its grotesqueries and its head-first dive into depravities of all kinds can be seen as reflective of societal ills but also it just tries to be as cool and decrepit as possible. This is the heart of Mad God's … um… "beauty". In a cinema-scape of films constantly trying to make its own audience feel smart or worldly or feel like they're watching something "important", Tippett drops us into a terrifying nether region and forces us to fend for our lost souls.
Just like how The Alchemist in the film lets two happy polkadot creatures joyfully frolic in a colorful playground of yummy treats only to release a horrifying spider which drags one of the creatures away to its lair screeching and crying, we are without warning subject to an endless visual smorgasbord of decapitations, pulverizations, electrocution, and surgical torture. There is no escape from pain and torment for various figures in Mad God. Everyone is a victim and the invisible forces that pull the various levers and hold the various cadavers bow and bend to no one.
Conclusion:
Mad God essentially serves as a tale of worlds and civilizations born and dying at a rapid pace. It's a movie of endless cycles and no answers as to where the origin is. The Assassin discovers a layer with piles and piles of suitcases just like he has, realizing there were millions like him before, all doomed to fail. In the second half of the film, a new Assassin drives through a war-torn hellscape and sees more suitcases. Will he finally be the one to reach his destination? All existence in Mad God is fleeting and inevitable to decay. But the movie is not nihilistic. It can't be because there is real purposeful art here. In its wasted tapestries of rotting buildings, shit-piles, and bug-infested mass graves, it's a movie that has more imagination in a single frame than most "blockbuster" movies will in their bloated 2.5-hour runtimes. If there is a heart in this movie's death-filled void of darkness and horror, it's in the man who made it. An Oscar-winning artist, Phil Tippett, shelved this project because he thought stop-motion was dead. Little did he know a time would come when cinema seemed to be on life-support and his film Mad God would be our fountain of youth.
Have you seen Mad God? What did you think? Let us know in the comments below!
Mad God was released on Shudder for streaming in U.S. on June 16th, 2022
---
Watch Mad God
Powered by
Does content like this matter to you?
---
Become a Member and support film journalism. Unlock access to all of Film Inquiry`s great articles. Join a community of like-minded readers who are passionate about cinema – get access to our private members Network, give back to independent filmmakers, and more.
Join now!