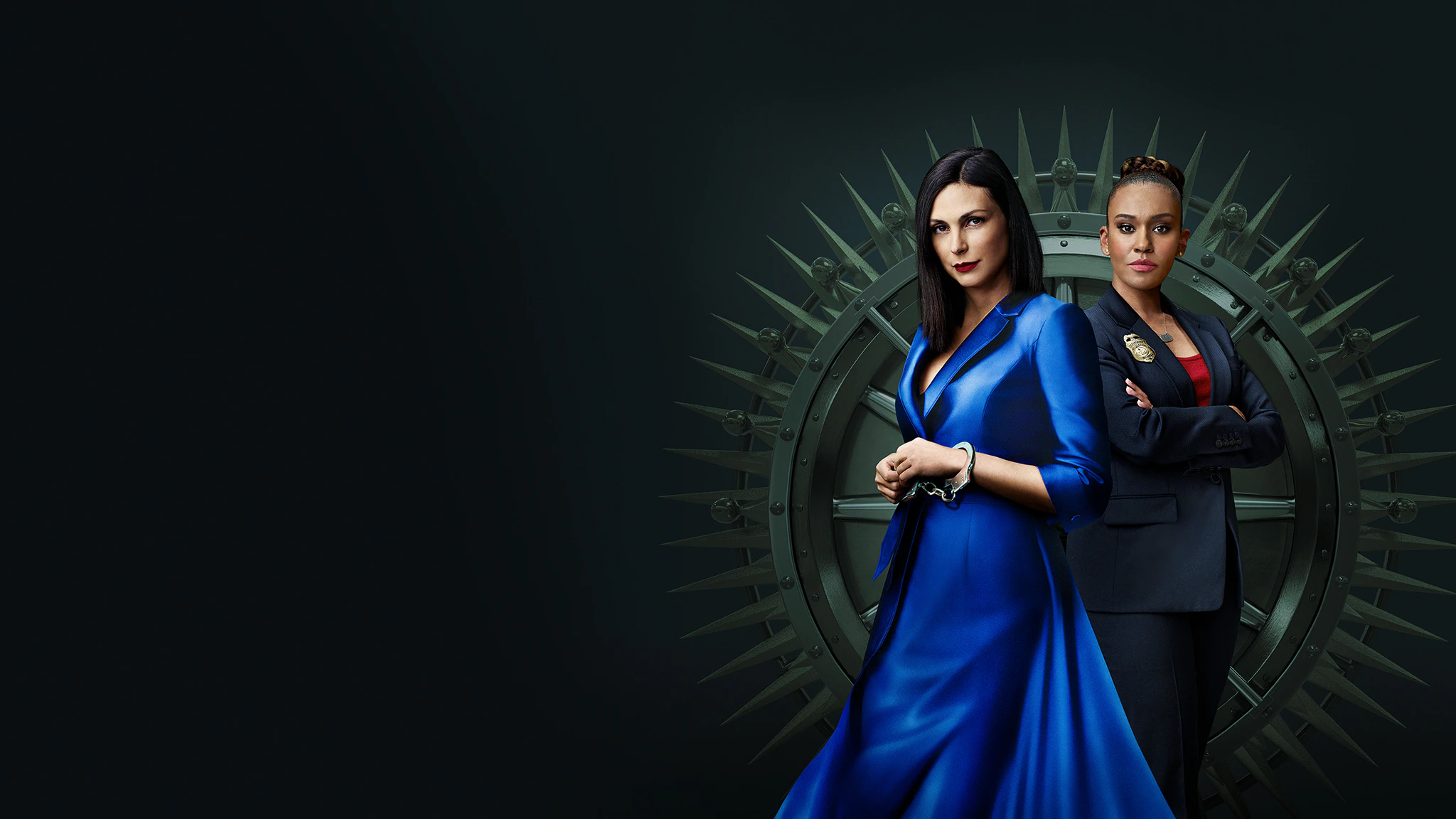 NBC's The Endgame is a somewhat unique series in that it so closely resembles another show, The Blacklist, in such specific ways, and more importantly, at such a specific point in that show's run.
The show opens with the transport of international arms dealer, and "criminal mastermind," Elena Federova (Morena Baccarin) to a holding facility where she can be interrogated and threatened by the heads of the FBI, Homeland Security, and more. In something of an "establishment explosion," we immediately shift from Elena's lack of regard for any of these people to a rapid-fire series of bank takeovers around New York City which Elena has orchestrated, and a story from Elena's childhood.
Here the series lets us know exactly where we are, for good or ill, and in a rather clever way (perhaps) clues in fans of The Blacklist (who will obviously be drawn to the show) when it comes to exactly where in that franchise's realm The Endgame hopes to establish itself. Elena is transported by plane, then through a series of underground tunnels, all via the same small box that shuffles through various methods of transport like a planet-sized Rube Goldberg machine, all to lock in place in a ludicrously large stage of a room. It harkens back to the box seen in The Blacklist, and walking us through Elena's delivery is a signpost. It's idiotic for the sake of idiocy, much like The Blacklist's box, and if this is an exactly accurate representation of how such a prisoner might be moved, and where they might end up, and with who, it's the job of a storyteller to lie and pretend the world isn't this stupid.
When the bank heists/takeovers begin, the between-the-lines signal is that we aren't kicking off where The Blacklist did, but where it ended up after several seasons, when conspiracies were planet-wide and the bad guys have more money than most countries. Within minutes of the first episode it is clear that Elena needn't go through any of this in order to ultimately get to whatever her endgame is, because she knows everything and has fully half of the city's entire workforce on her payroll. A coordinated, meticulously calculated scheme for the ages with stakes in the heavens devolves into a sort of mindless diversion with no real stakes at all because the show isn't depicting a criminal mastermind but a god. Worse, a god who is operating within a fairy world she must have created, where the heads of law enforcement are teetering toward pratfalls and say things like, "no one knows you're here," but instead of throwing (apparently) the world's most dangerous criminal in a hole, install her in her own Batcave.
Enter Val Turner (Ryan Michelle Bathe), an FBI agent whose career is in a bit of a difficult situation, but finds herself center stage because she has been doing a lot of research on Elena. Val isn't exactly walking into things on a great day though. It's bad enough when you have to visit your husband in prison, but when he decides to hand you divorce papers, it might not be the day to try to be at the top of your game.
The curious cat-and-mouse game where the mouse is already in the cage is underway and the schemes within schemes seemingly never ends. The banks are simply steps toward grander machinations, or whatever, and Elena is ten moves ahead of everyone and manages many of her plays ala Nakatomi Plaza, by counting on the law enforcement playbook to work to her advantage.
The show then plays out as one massive sprint through the events Elena has orchestrated with agent Turner trying to leap ahead and figure out where this roller coaster could be headed while Elena rubs her hands, tries to get in everyone's head, and takes pieces off the board, including the ones standing in front of her.
Setting the stage early is a good move for the show. It's oddly stagy and grandiose in a way that suggests perhaps a Broadway musical as opposed to something to be "taken seriously," or as, "how people actually act." But, admitting that in the opening, it manages to be rather fun, most of the time, and it's hard to avoid wanting to follow Baccarin around no matter what she's doing. Some of her lines drive things toward the accidentally comedic, but she's a great choice as someone who is holding all the cards and pulls you to the edge of your seat with the hope that she'll reveal a few of them.
Ryan Michelle Bathe is trickier in the show's early going because she is largely bogged down in so much background and establishment that it's difficult to do anything with the material other than go through the motions. Her potential to inject something into the character is limited to a few scenes of being really pissed off and a moment or two of figuring out where Elena's schemes lead. One of those is boring, the other gives her a chance to sell herself and she reveals the show's potential.
Fans of The Blacklist, now, will find themselves with a raucously kinetic new favorite and it seems like the show is going to get better as more is revealed and it's easier to focus on the characters. However, those who loved The Blacklist from the beginning but have long ago abandoned it have little reason to start in with this one.
The post The Endgame Review – NBC's Next Crack At Supercriminal Starts Well Down The Disbelief Road appeared first on Are You Screening?.