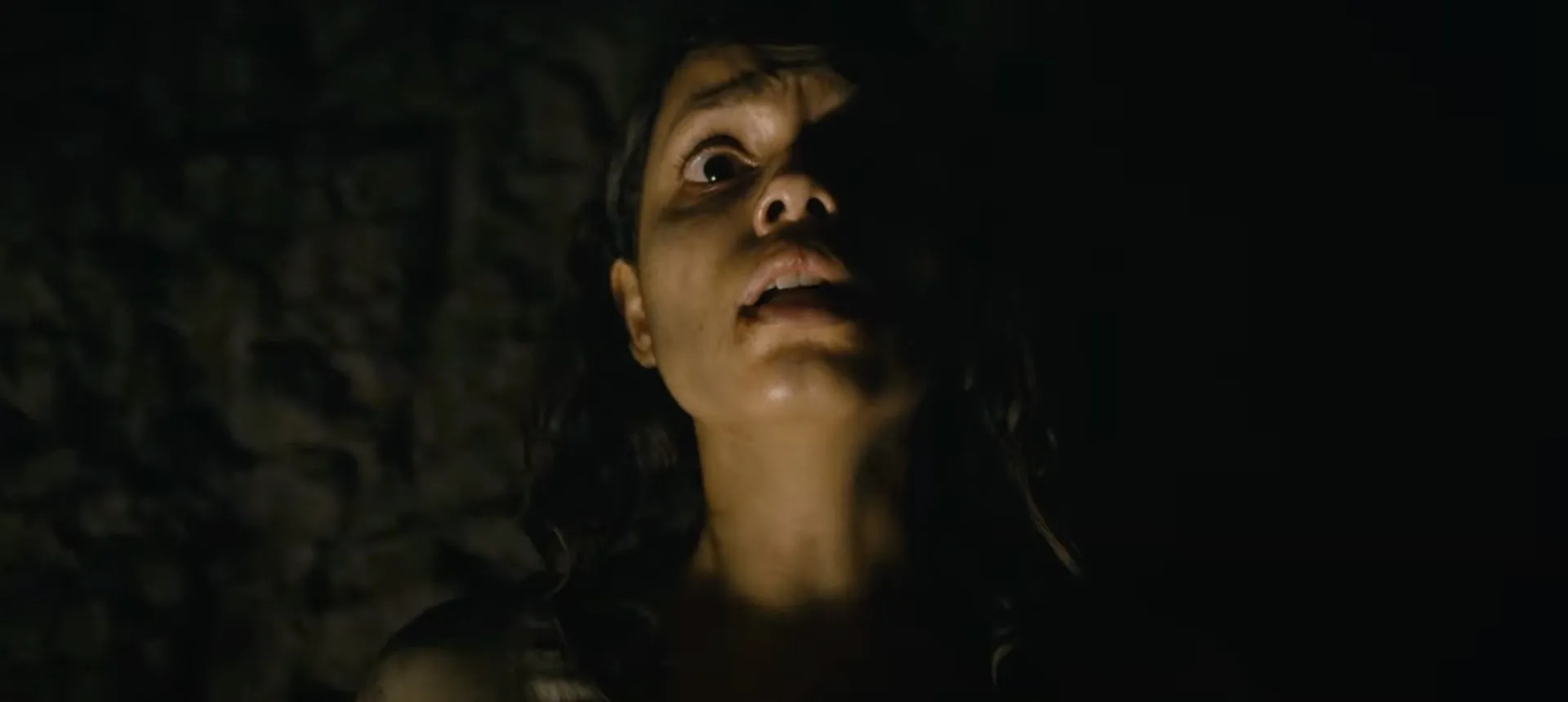 Something Wicked This Way Comes
Between 2016's Don't Breathe and Barbarian, there's an emergent sub-genre of horror: Detroit Dystopia. Both films put the urban wreckage of the city's broken ecosystem under the spotlight to set the scene for unspeakable horrors. Barbarian, if not directly inspired by Fede Alvarez's 2016 horror hit, shares a lot of the same DNA and influences. Both take place in Detroit's most rundown neighborhoods – an almost post-civilization shadowland marked by abandoned, graffiti-stained houses, a lack of discernible social services, and the roving few who've never left. In the ruin of a once flourishing industrial neighborhood lurks a gaping hole. And in that absence sadism festers. Their tunnels run deep.
Actor-turned-director Zach Craggier, best known for creating and starring in the popular sketch comedy series The Whitest Kids U' Know, uses this Detroit Dystopia to go full Jordan Peele and make the jump from sketch comedy to full-blown horror. To unspool his manically-minded movie about an Airbnb booking gone terribly wrong, Craggier dances ably between sustained suspense and raw-dogged camp. The result can be at times jarring – and tonally ventures all over the horror map – but what he's created is never anything short of magnetic.
Barbarian introduces us to Tess (Georgina Campbell), a capable, intelligent "final girl" that doesn't fall pray to the pratfalls of suss cliches. Tess is in town for a job interview – she's up for a researcher position with an acclaimed musical documentarian – but when she arrives at the short term rental she's booked for her stay, she realizes that the house is already occupied by a lone man, Keith (Bill Skarsgård). The pair realize that it's an innocent case of a double booking and Keith makes concessions to elevate Tess' rightful concern over the situation by offering her the only bedroom with a lock and opening the wine they eventually share in front of her to prove he didn't put anything in it.


Craggier has fun toying with the idea of innocence and perception. Audiences arrive at the theater with their own preconceived notions of how these situations might play out. Both in real life and in movies. We know what to be on the look out for. And more often than not, audiences are primed to look at the single male player in the equation with great suspicion. Surely Keith cannot just be a hospitable hot boi caught up in this inconvenient coincidence. He must have devious intentions and a sinister plot. Digging into the inherent tension of the gender dynamic, Craggier playfully takes his time revealing what is actually going on behind the scenes, making for a first half of the film that's rich with expectation and unresolved silences. On multiple occasions, his ability to make audiences expectantly hold their breathe while the camera pushes into the darkness suggests the work of a true maestro. And then things fly fully off the rails. In – if not the best way possible – bombastically entertaining form.
[READ MORE: Our review of one of 2022's best horror movies 'Watcher' starring Maika Monroe]
To spoil the direction that Craggier takes things would be unforgivable. Wondering alongside Tess exactly how everything is going to hell in a hand basket would drain the joy of suspicion in this film that's rich with it. Although Craggier may lose some viewers in the decidedly go-for-broke back half, you have to applaud the emerging filmmaker for not pulling his punches. Delivering what is almost a grindhouse double feature in itself, he proves he can make a measured, suspenseful horror-thriller and a maximalism, gonzo camp-fest. All in one movie!
Campbell is fantastic as Tess, grappling with a spectrum of turbulent emotions from the initial anxiety of stranger danger to what might be a budding flirtation with her surprise roomie. Skarsgård, perhaps most famous for his portrayal of Pennywise the Clown in the 2017 and 2019 It series, is a loaded proposition but he handily carries the pull between aw shucks gallantry and sketchy suspicion. We're never quite sure what to make of him until it's revealed in no uncertain terms exactly what he's up to. Justin Long's character will almost certainly be a point of contention – and is saddled with some truly cringy character dialogue – but it's undeniably great to see the shaggy performer back in the crosshairs of a horror creeper (the last we saw him in a horror joint, he had been surgically transformed into a walrus.)
As with any good horror movie, the sound design is a crucial element to conjuring suspense. Aided by Anna Drubich's menacing score, Barbarian's soundscape is a cavernous treasure, deep and dark and swallowing up all hope. As the descent into this Detroit dystopia keeps finding new layers to sink into, the film embraces the more darkly comic elements, which helps to alleviate the tension while letting Craggier's tongue-in-cheek humor shine through. As far as horror movies go, Barbarian is a a resounding success that's destined to earn a cult following and very well might end up being the best – or at least the most rewatchable – horror movie of 2022.
CONCLUSION: A case of an accidental double booking goes full nightmare in Zach Craggier's simmering horror feast 'Barbarian'. Part suspense-driven horror thriller, part gonzo camp-fest, the tonally turbulent but ferociously fun Barbarian gives horror fans a heaping serving from multiple sides of the genre's spectrum.
A-
For other reviews, interviews, and featured articles, be sure to:
Follow Silver Screen Riot on Facebook
Follow Silver Screen Riot on Twitter
The post 'BARBARIAN' Is Part 'DON'T BREATHE', Part 'WRONG TURN' and it Rules appeared first on Silver Screen Riot.