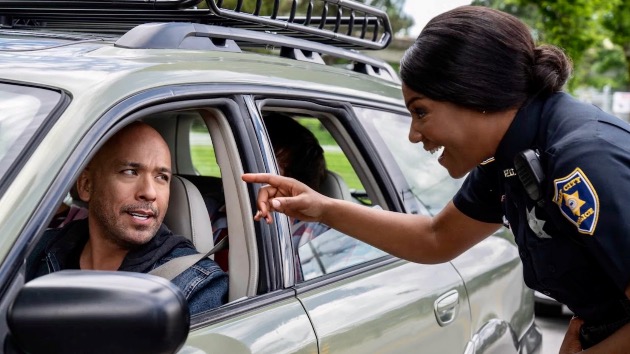 Easter Sunday (2022) works better for what it stands for as opposed to the story it tells. Filipinos have long been entwined in all facets of American culture, including the arts. Yet when it comes to representation, they have mostly been ignored. Like many actors of color, Filipino-Americans have had to settle playing roles of other minorities – whether it be Latinx, Native American, or non-Filipino Asians. When it comes to parts that are specifically Filipino-American, opportunities have largely been unavailable. Off the top of my head, I can only think of two Filipino-centric films that have gained traction among wider audiences: The Debut (2000) and The Fabulous Filipino Brothers (2021), both of which starred Dante Basco (who directed the latter).
This comes as the first to be produced and distributed by a major studio. The story goes that Steven Spielberg saw and loved comedian Jo Koy's comedy specials on Netflix. Jo Koy was invited to Universal Studios to pitch any project he wanted, and on the spot was given the greenlight to make Easter Sunday. While this sounds like an overnight success, Jo Koy has been a working comedian for over thirty years. His brand of humor, largely featuring impressions of his mom and son, are hilarious. He has a knack for describing what life is like as a Filipino in America, yet has such abundant charisma that he can cross cultural lines. Jo Koy brings a lot of this appeal to his role as Joe Valencia – a struggling actor and stand up. It would make sense that the most effective scenes show him performing on stage or riffing with fellow comedians, because that is his natural element.
The writing (Kate Angelo, Ken Cheng) and direction (Jay Chandrasekhar) structure the narrative as a set of comedic episodes. The crux centers on Joe and his son Junior (Brandon Wardell) traveling to Daly City, CA to celebrate Easter with their family. This reunion reveals several conflicts. Joe's mother Susan (Lydia Gaston) chastises him for becoming an entertainer. Susan is also sparring with her sister, Tita Teresa (Tia Carrere) creating a sibling rivalry involving everything from their cooking skills to who gives the better presents. Joe's cousin Eugene (Eugene Cordero) borrowed money from a loan shark (Asif Ali) for a business that went nowhere. Eugene has no means of paying the debt back which, obviously, is a bad thing. Meanwhile, Joe's agent (Chandrasekhar) calls him every hour about a possible acting job, putting a strain on the already flimsy relationship he has with Junior.
This is a lot of moving parts. In execution, the various story threads feel thin. Scenes are constructed with a stale, flat style. The camera holds everyone in medium shots, cutting between a punchline and a facial reaction. This dampens the pacing, making scenes feel long. The performers do a lot of the heavy lifting, utilizing their abilities to carry the load. This is especially true for Carrere and Gaston. The two sisters garner the biggest laughs, tossing lines back and forth with increasing distain. They are competing for approval from the family, yet neither one will back down. It's unfortunate that the writing and direction does not help the actors out. Characters are put in situations that are not made to generate big laughs. When Joe delivers a standup routine describing every bit of his family's problems, he does so with enthusiasm. However, because he does this right in the middle of Sunday Mass, the result is more awkward than funny.
In terms of aesthetics, the production design and art direction fill locations with authenticity. From the makeup and costuming, the religious symbols littered throughout Joe's childhood home, the wooden fork and spoon hanging on the wall, to the karaoke machine ready to be played , the visual details create recognizable textures. Being Filipino myself, a lot of what I saw felt ripped right out of the house I grew up in. A standout scene has the family stuffing "Balikbayan Boxes" with clothing and gifts to be sent to relatives overseas. Non-Filipinos will see similarities in how food is used as a symbol of love, or how the aspirations of a younger generation contrast against their parents' wishes. It's a nice dynamic that demonstrates how – despite the intricacies being different – people share many of the same beliefs, dilemmas, and stresses regardless of where they come from.
This is, without a doubt, a labor of love for Jo Koy – both as a Filipino-American and as a comedian. But that very element messes with the narrative balance. He wants to represent every aspect of his background, but that causes scenes to feel detached. Appearances from the likes of Tiffany Haddish and Wanye Morris felt like friends doing Jo Koy a favor. The plot involving Joe and Eugene evading the loan shark comes out of an entirely different movie. Seeing the two tripping over themselves to pay the money was neither funny nor entertaining. This is the kind of stuff suited for a wacky sitcom. By the time things devolved into a half-baked car chase, my focus started to drift.
I'm of two minds when it comes to Easter Sunday. Having seen so little of my community depicted on the big screen, I want as many people to watch this as possible. Hopefully it'll open more doors for people that look and talk like me. As a movie, it leaves a lot to be desired. Committed performances are left out to dry by a production that offers little stylistic support. It operates as a symbol of representation rather than a well-developed, cohesive story.