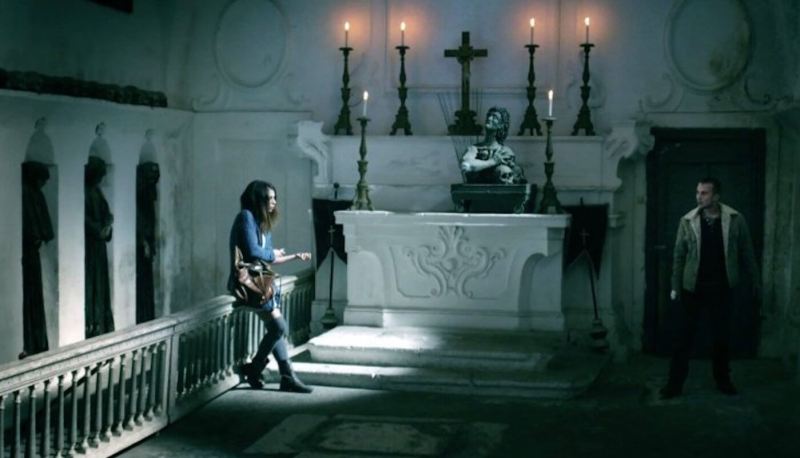 When Americans leave home in search of meaning somewhere on the European continent, it's usually a recipe for disaster (at least in the world of horror cinema). Young, brash, naive Americans have to face ancient beasts (The Ritual), human traffickers (Hostel), and even covens of witches (Suspiria). Watching enough horror films might make you think twice about your next trip abroad. Strangely, in Justin Benson and Aaron Moorhead's romantic body horror, Spring (2014), the tension is far more grounded in human emotion and real-world obstacles than physical mutations.
Evan (Lou Taylor Pucci) can't seem to catch a break in his homeland. First, his mother dies of cancer. Then, a physical altercation with a drunken man causes him to lose his job. With no prospects and fear of repercussions from the assault, Evan takes a friend's advice and leaves the country. He travels to Italy with no clear plan; he simply bums around until he finds a job assisting an aging Italian farmer.
While grabbing a drink at a bar, Evan meets a beautiful woman, Louise (Nadia Hilker), who seems overly desperate to have a one-night stand with Evan. Evan initially rejects her advances, assuming that she is trying to scam him in some way. But since Evan works at a farm nearby to Louise's hometown, he sees her again and attempts to win her over. Despite her indifference, bordering on ambivalence, the two eventually have sex. This leads Evan to pursue a more authentic relationship with her, all while avoiding Italian immigration and struggling to break through Louise's hard and mysterious exterior.
Needless to say, Spring leans heavily on the romantic elements of its story, which may feel a bit disappointing to horror fans. Fortunately, body horror is an integral part of the narrative, explaining Louise's desire to have sex with Evan and distance herself from him at the same time. Evan grows increasingly frustrated with her "European" detachment, but eventually learns about her true nature and the reasons for her strange behavior.
Aesthetically, the film benefits greatly from shooting on location in Italy. The beautiful ocean views, countryside, and distinctly Italian villages create a perfect background for romance. They also provide context for the horrific aspects of Spring, even though the actual moments of body horror are few and far between.
More than anything else, directors Justin Benson and Aaron Moorhead allow the story to flow naturally, even with some rather far-fetched explanations in the third act. In the United States, Evan is haunted by legitimate threats and trauma. His mother has died, he has no job, and he could face legal or even violent retribution from the man he assaulted. Once he makes the move to Italy, he has to find a job, evade immigration officers, and try to adapt to a country and culture he does not understand.
Evan knows he cannot return to the United States, but his prospects in Italy are lacking. To make matters even more complicated, he falls in love with a reclusive woman who rebuffs him at every step. It is only once we come to know the true nature of Louise that the story shifts more into the supernatural. However, even until its final scenes, Spring maintains a sense of authenticity lacking in most modern horror films.
Despite the absurdity and extremity of her condition, Louise never comes across as an archetype or an accessory to Evan's journey. Both Louise and Evan are complex characters who perform their respective roles to perfection. If for no other reason, Spring is worth watching as an excellent example of great writing, directing, cinematography, and acting coming together to turn a rather bizarre story into a genuinely great piece of cinema.
Spring (2014) Movie Rating: ★★★★ out of 5
If you'd like to watch Spring (2014), it is currently available to rent, purchase, or stream via Amazon. For more film reviews like this one, be sure to check out the Philosophy in Film homepage!
The post Review: Spring (2014), Romance Meets Body Horror in Italy appeared first on Philosophy in Film.