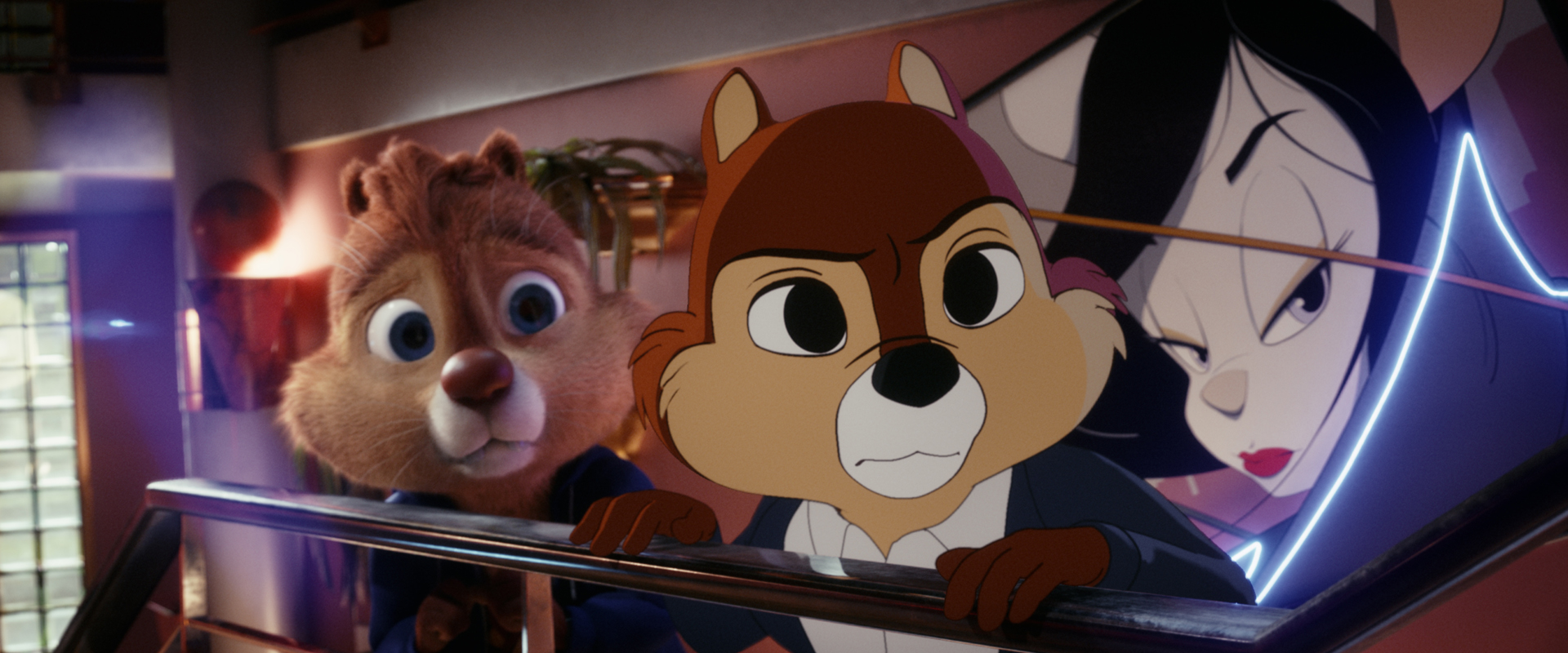 Chip 'n Dale: Rescue Rangers (2022)
It's not a reboot. It's a comeback.
I was around the right age when Disney's Chip 'n' Dale Rescue Rangers, which only lasted three short years, hit the small screen in 1988. I vividly remember waking up early to watch Disney's Saturday morning cartoon program, which then included shows like DuckTales (1987 – 90), TaleSpin (1990 – 91), Darkwing Duck (1991 – 92), and, of course, Rescue Rangers. Centering around Disney's famous chipmunks, who were re-imagined as leaders of a pint-sized crime-fighting unit, Rescue Rangers was one of Disney's more memorable 'adaptations,' thanks to its detective angle and lovable characters, such as the group's muscle, Monterey "Monty" Jack and cute mouse mechanic Gadget Hackwrench.
Fortunately, the zany new live-action Chip 'n' Dale movie, simply titled Chip 'n Dale: Rescue Rangers, is targeted directly at the people who grew up with the show in the late '80s/early '90s, filmmakers delivering a clever, self-referential 'trip' that also takes its cues from another iconic '80s property, Robert Zemeckis' Who Framed Roger Rabbit (1988). Just like the aforementioned classic, Chip 'n Dale: Rescue Rangers is set in a Noir-ish world where humans and 'toons — well, not just 'toons, but a variety of animated characters — co-exist and revolves around a mystery regarding missing 'people.'
The meta script, by Dan Gregor and Doug Mand, focuses on Chip (voiced by John Mulaney) and Dale (voiced by Andy Samberg), a couple of anthropomorphic chipmunks who starred in their very own successful television show Chip 'n' Dale Rescue Rangers back in '88. The film opens by taking us back to their humble beginning as youngsters, meeting in Anytown, USA, before eventually cracking it big in Hollywood with their own TV series. Although Chip and Dale have always been a double act, things get rocky when Dale begins to hunt around for a solo gig, seeing as he's always believed that he's second fiddle to Chip. After landing a starring role in a James Bond-type series titled Double-O-Dale, Dale decides to leave the Rescue Rangers, breaking Chip's little heart in the process. Alas, showbiz is a fickle mistress as Double-O-Dale winds up flunking, whilst his absence from Rescue Rangers causes the program to get canned.
Thirty years later, Dale has undergone the 'CGI surgery' to help further his career and stay relevant in the changing landscape, spending his days at pop culture conventions where he's signing autographs and slinging merch alongside other struggling 'talent,' such as the internet's favorite hellish creation, Ugly Sonic (voiced by Tim Robinson). Chip, on the other hand, has become a successful insurance salesman who's kept his traditional hand-drawn look and has only one real friend, his dog.
The duo is reunited when their former co-star and old pal Monterey Jack (voiced by Eric Bana) gets into some hot water, warning the chipmunks of a disturbing trafficking plot (this isn't really a kids movie, folks) revolving around 'toons being kidnapped and altered, then shipped overseas to star in bootlegged shlock for the rest of their lives, the kind of drek that tries to cash in on a successful franchise's popularity — for instance, movies like The Little Panda Fighter (2008) and What's Up (2009). But, when Monty goes missing, Chip and Dale are forced to become real-life 'rescue rangers,' the pair teaming up with rookie LAPD officer and long-time fan Ellie Steckler (KiKi Layne) in order to crack the case and save their friend.
Paying homage to the show on which it's based, director Akiva Schaffer, The Watch (2012), has fun with the project; there's just so much packed into every frame of Rescue Rangers that it's worth watching multiple times simply just to catch all the cameos and Easter eggs — one of my favorite was seeing Paula Abdul dancing with MC Skat Kat (Opposites Attract, baby!). With that said, it's not just Disney and FOX properties that appear here, as no studio is safe, and nothing is spared for a sight gag or joke!
What's more, while the central mystery isn't overly thrilling, the film works as a send-up of today's IP obsessed culture (think Hollywood's blatant attempts at cashing in on well-known franchises) — we see faux movie posters of blatant yet hilarious cash grabs such as Batman vs. E.T. and Fast and Furious Babies. The film also playfully looks at the way animation has changed and evolved throughout the years, with Schaffer populating his world not only with traditional hand-drawn and CGI characters but a wide range of animation styles, such as stop-motion, Muppet-type puppetry, and even a sock puppet! There's a criminally underused visit to a place known as the Uncanny Valley, where those wonky animations from the early 2000s live, and we meet a Viking dwarf (voiced by Seth Rogen) who can never quite make eye contact.
It helps that the stacked cast is terrific. Schaffer's frequent collaborator Andy Samberg, Popstar: Never Stop Never Stopping (2016), does a great job voicing the happy-go-lucky, Hawaiian-shirt-wearing Dale, bouncing well off his more grounded co-star John Mulaney, Spider-Man: Into the Spider-Verse (2018), who voices the firmer Chip. J.K. Simmons, Spider-Man (2002), is also good as Captain Putty, a Gumby-type Claymation police captain leading the film's chief investigation. Will Arnett, The LEGO Batman Movie (2017), is perfectly cast as Sweet Pete, a bitter, middle-aged Peter Pan who's all grown up and has put on some weight; the same can be said about Da'Vone McDonald, Forgetting Sarah Marshall (2008), who voices Jimmy, a henchman resembling the Coca-Cola polar bear. Additionally, there are some fun voice-work related gags and surprises, the best involving funnyman Seth Rogen — film buffs will know the one (um, Into the Rogen-Verse?).
Chip 'n Dale: Rescue Rangers isn't a movie for contemporary 'kids,' more so those who grew up in the era of the original series; its most rewarding elements require patrons to have been around for several decades or at least understand a thing or two about the entertainment world. If anything, this latest Rescue Rangers proves that there's still fun to be had in the current reboot/ rehash landscape, especially if filmmakers are willing to go that extra mile to do something a little more daring. This is nostalgia done right. Now bring on Darkwing Duck!
4 / 5 – Recommended
Reviewed by Dan Cachia (Mr. Movie)
Chip 'n Dale: Rescue Rangers is currently streaming on Disney+