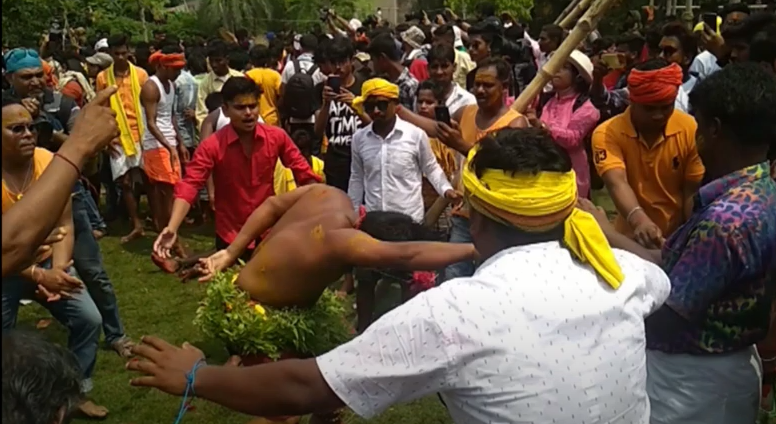 ★
Directed by: #PritankoGhatak
Short Film Review by: Alexandra James
---
Frenzy shows the audience the festival Aadi Vel held in Bandel a town in West Bengal. The festival is colourful and full of dance and music played by windpipes and drums. It is held annually and is a version of the Thaipusam festival help in Sri Lanka. The festival celebrates Parvati giving Murugan a 'Vel' meaning 'divine spear' to vanquish the evil demon Soorapadman and his brothers. During Aadi Vel people dance frantically and many devotees pierce their skin, tongue and can become possessed and lose themselves within the festival.
It was fascinating to see how different cultures and religions celebrate and the history behind the festival. However, I did have to research this festival and the story behind it myself. This would have been a good opportunity to teach the audience a bit about the festival and the practices that take place. Perhaps some form of narration over the top of this documentary for some context would have helped as there was a limitation to the information provided, apart from the brief description at the beginning of the film which did not reveal a lot about the celebrations.
It was great to see raw footage of the festival, the people and the colourful and bright outfits along with the music. There was a vibrancy, and you could see the excitement and joyous emotion scattered within the endless crowds of people. This created a lot of impact, and it would have been good to see more of this footage. The editing slightly took away from this liveliness, as it was very jolty and did not seem to match well with what was playing out on screen. The music was upbeat and put the viewer at the heart of the festival, you were able to envision yourself within the busy crowds and immerse yourself within the culture. However, it would have been good to leave out the trance-like music played over the top. As a documentary, I think it's best to stick with the topic at hand, keep the original music that was a part of the festival. This would really help to elevate this piece and to learn more about the proceedings and the type of music which can be heard.
Frenzy allowed us to explore the ways in which different religions celebrate. The piercings that were being administered seemed scary but were captivating as it allowed us to see the devotion people have for their beliefs. This was a good start at a documentary style film, but it would have been beneficial to have a lot more information and facts so that the viewer can truly understand the importance of this festival.