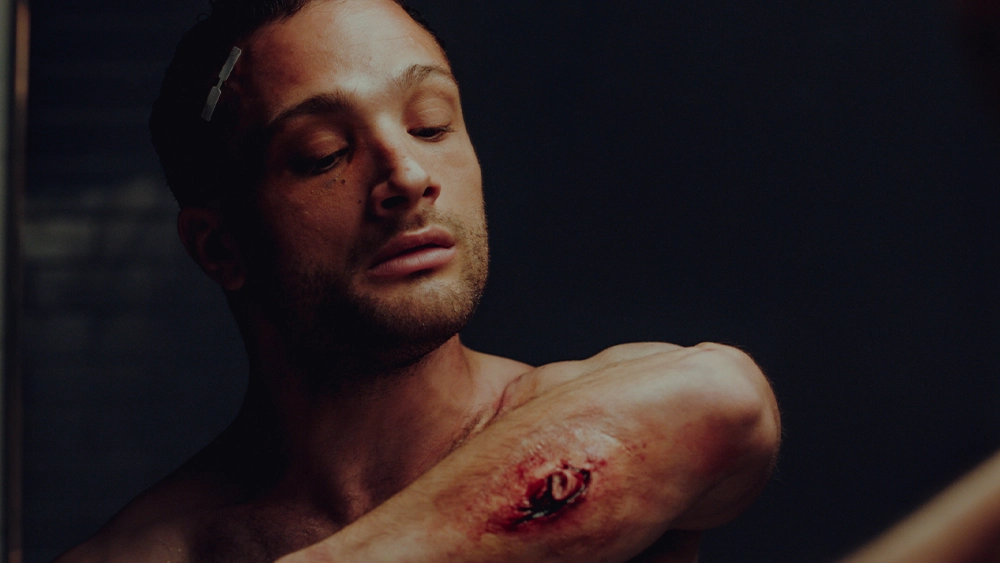 When out-of-tower Hamish (Cosmo Jarvis) gets in a head-on-collision with Irish teenagers Callum and Evan (Rhys Mannion), only the later survives. Reeling from the fallout, the unscathed Evan and banged up Hamish wind up in a complicated dance, caught somewhere between trauma bonding and flirtation in a film that's slow to reveal its hand. Their relationship becomes bizarrely intimate but undercut with a simmering level of foreboding in actress-turned-first-time-director Antonia Campbell Hughes' introspective thriller It Is In Us All.
Set in the Irish countryside, It Is In Us All explores themes of identity and ethnic heritage. From the moment that the British Hamish arrives in Ireland, he feels the pull of his mother's home country that ne never knew. A fog of regret settles in as Hamish struggles to come to terms with his not knowing his heritage nor his family. This is underscored by the fact that his aunt – who has recently passed away – seems to have been a central figure in this sparse community, which remembers his mother fondly. Her sudden disappearance from her home town, not so much. Hamish's suspect family history comes to light, complicating his fraught relationship with his living father, but is never made explicit, Hughes' picture finding comfort living in the in-between of knowing and not-knowing.
A bit like a queer-coded Crash (the 1996 David Cronenberg film, not the embarrassing Oscar winner), It Is In Us All explores what it means to let go and experience life on the fringes of danger. The yearning between Hamish and Evan emphasizes the recklessness that drove them both to the crash site. There's a great sense of unease that populates every scene, exacerbated by the disquieting score from Tom Furse and Piers McGrail's shadowy cinematography.
From the moment we meet him, Hamish is a man made of shadow. Well-dressed and emotionally withdrawn, he is a shattered mirror. When he miraculously survives the vehicular collision, Hamish cannot seem to forgive himself. The residents of the town want him out. He has no car and limited ability to communicate with the outside world. When they first meet after the crash, Evan offers to run to the shop to pick up "bread and milk" and the like. Hamish refuses help. Trekking through a rocky field, he re-breaks his arm and, in an absolutely grueling scene, decides to pop his bone back in and duct tape it back together rather than seek actual medical help. His arm remains in a crude DIY splint for the remainder of the film, a lingering reminder of how deeply damaged the character remains and his own perception that he's undeserving of care.
Jarvis offers a memorable turn in the lead position, making Hamish an enigmatic and elusive curio, perhaps too much so at times. His performance is so deeply internalized that when it finally breaks through the surface to crash against the rocky shoals of his emerging relationship with Evan, the explosiveness proves alarming and catches us off guard. We're never sure where their bond will go – will they fight, fuck, or something in between the two? – but Campbell-Hughes seems intend on reminding us that that isn't really the point. Seeing these people process their grief is a difficult journey and she plants us front and center in the uncertainty and anguish of it all. Hamish suffers not only the loss of life at his own hands but the loss of his life not lived in Ireland, with his mother, his aunt, his heritage. With It Is In Us All we're here for what happens after the regular motions of life fade to the rearview. Fasten your seatbelts, it's a bumpy ride.
CONCLUSION: 'It Is In Us All' slowly unspools Antonia Campbell Hughes' treatise on heritage and grief as a head-on car crash leads two troubled men – one decades younger than the other – into each other's arms.
B-
For all our coverage of SXSW 2022, click here.
Follow Silver Screen Riot on Facebook
Follow Silver Screen Riot on Twitter
The post SXSW '22: Yearning Homoerotic Thriller 'IT IS IN US ALL' appeared first on Silver Screen Riot.