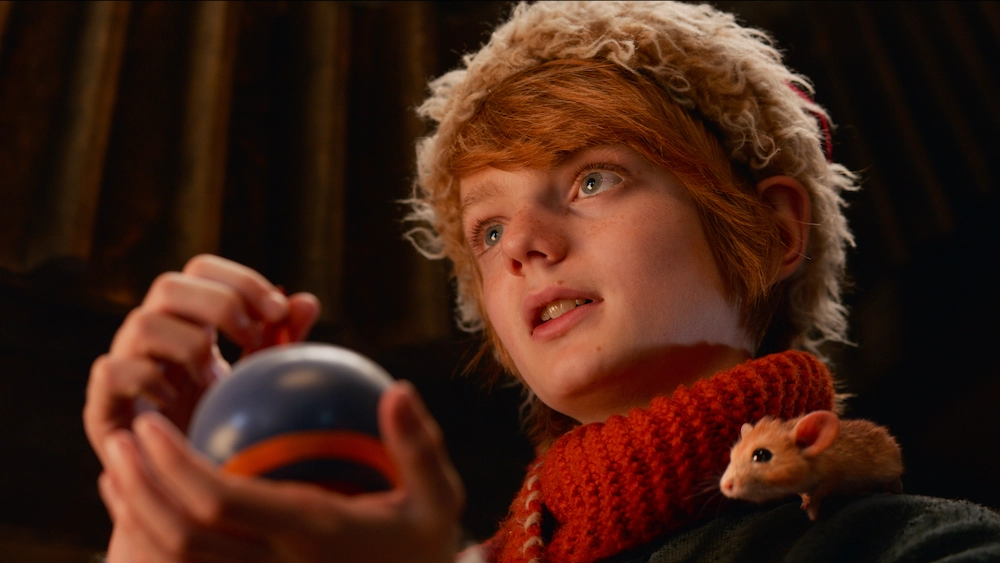 Santa Claus origin stories are legion, and somehow all the more charming for their variety, but the truly screwball versions seem to have their own magical attraction. There may be many that are quite similar, but it's hard to beat the pure draw of something like L. Frank Baum's The Life and Adventures of Santa Claus. Similarly, Matt Haig's 2015 book, A Boy Called Christmas, bears little resemblance to anything else you may have heard about how the merry toymaker came to deliver joy to the world.
In our story within a story, Aunt Ruth (Maggie Smith) spins the yarn of young Nikolas (Henry Lawfull), a boy who circuitously finds himself trekking north on the trail of his father, who is himself searching for the legendary Elvenswood. Along the way, Nikolas befriends a talking mouse, a reindeer, and ultimately a truth fairy (the subject of other Haig novels). Nikolas, filled with stories he heard from his deceased mother about the wonders of the land of elves, is rather shocked to find that not only is it a real place, but that the elves are not particularly friendly to humans.
Eschewing the normal trappings of holiday adventures, A Boy Called Christmas is largely a desperate quest that follows a boy out of his depths, without much to suggest that he's up to any task at all, much less this one, who is almost constantly given yet more to trip him up. If it isn't simply being freezing and alone, it's finding yourself on the run, or being confronted by the crushing disappointment that is adulthood. There is some fun along the way, and there's no comic relief like a truth fairy, but events here ultimately go so far as to perhaps render some part of the target audience, well… not.
Hopefully, and that's the key word of the film, the magic of the struggle comes through and Nikolas is in fact sufficiently revealed. Honestly, that's up in the air as the film plays out, walking a tightrope of shifting tones that occasionally are quite a bit darker than might be expected. Difficult as that might be, it could be the necessary evil within this effort to deliver a certain perspective on the magic of the holiday. The film is all about hope, and if things aren't going pretty grim, hope doesn't especially come into play. Nikolas is running out of hope, he's having his hopes dashed at certain junctures, his father is on a quest to somehow find some hope, obviously because we need some. It's all hope, and you've got to be staring at a dark cloud to search for, or become, that beacon.
It's a kind of misfit effort to add to the holiday offerings, and one that is going to grab as many as it annoys, which places it squarely among Gil Kenan's other directorial efforts (Monster House, City of Ember). There's a harsh reality here, much like in his other films, that just isn't going to resonate with everyone, but if it does the heart, and hope, of the matter come through all the more. Unfortunately, Lawfull doesn't quite deliver through much of it, but he's carried along by the spirit of the thing and knows when to let other people do better work around him (Jim Broadbent, for example, is mostly working in a far better film).
There's little chance that A Boy Called Christmas is going to become some major part of the holiday consciousness as years go by, but it should, despite its rough edges. In much the way that City of Ember is woefully underappreciated and far more deserving of a broader cultural status than… some things, A Boy Called Christmas meets younger audiences where they actually are and looks at a "realer" part of life, or in this case, Christmas — like why we need it.
Watch A Boy Called Christmas Here
The post A Boy Called Christmas Review – Netflix Gives Wild Holiday Magic A Chance appeared first on Are You Screening?.